Trump wants Congress to release names of lawmakers who have settled sexual harassment claims
President Trump wants the names of Congressmen who have settled sexual harassment cases to be released to the public.
Congress has a rampant sexual harassment problem. In fact the problem is so bad that
female lawmakers and aides keep a 'creep list' of men who are notorious for lewd behavior.
Rep. Jackie Speier (D-CA) recently told MSNBC's Chuck Todd that
taxpayers have paid over $15 million
to settle sexual harassment lawsuits against members of Congress!
WE WANT NAMES!
White House Correspondent for One America News, Trey Yingst tweeted, "NEW: President Trump tells me he believe Congress should release the names of lawmakers who have settled sexual harassment claims."
Twitter was set ablaze last week after the Congressional Office of Compliance released a year-by-year breakdown of harassment settlements and other awards without details. (screenshot below)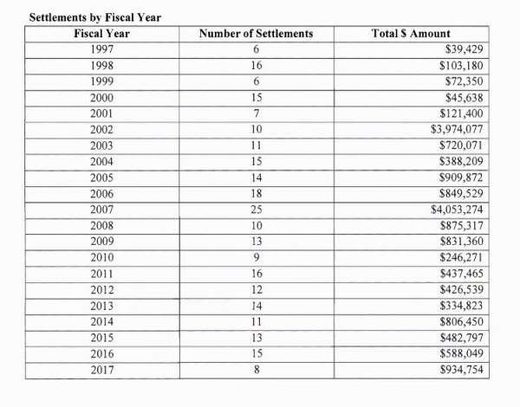 Americans are mad as hell after it was revealed Monday evening that Democrat Rep John Conyers has been accused of sexual harassment by multiple women. According to affidavits, Conyers used taxpayer money to fly women into D.C. to meet with him in hotel rooms!
Comment:
Trump told this to reporters:
It's no surprise that Congress is a den of perverts who have no problem charging the consequences of their indiscretions back to the taxpayer. By releasing the names of those who settled, we may actually see consequences for their actions, if not in an actual court, the court of public opinion at the very least. But with a look at that tweeted list, what was going on in 2002 and 2007?